Marienhaab History
1809 – 2020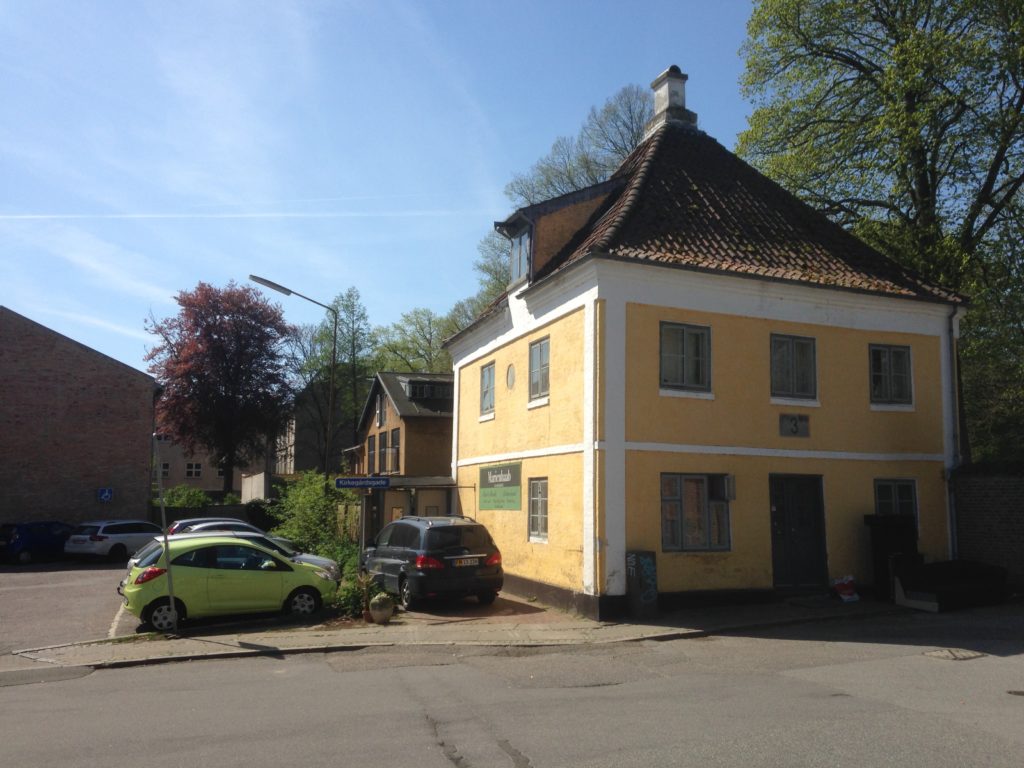 Marienhaab, Kirkegaardsgade 3, Aalborg, was built in 1808, two years after the General Cemetary. Marienhaab lay beyond the city boundary, where the farm, St. Jørgensgård, had previously been. The farm belonged to St. Jorgen's Church, about 200m away. The church was used as a gunpowder magazine after it closed in 1790, and subsequently demolished in 1807.
Allegedly, the materials gained from demolishing the church were recycled into a short-lived chapel and later into a tractor site for visitors to the cemetery. This tractor site is what is now known as "Marienhaab".
The site originally had a bowling alley from 1874 running parallel to the south of the cemetery, which explains the long narrow design. According to records, the alley was shut down due to complaints from the guests and funeral companies about the noise, because it disturned the mourners.
When the building was completed in 1807, it had yellow-colored walls adorned with cornices and pilasters made with red bricks. Today, the overall yellow design still persists, however, the red has been redone with a white coating.
At the end of the 19th century, a stable building was built at the southern end of the ground. However, since there was also a grocery store right next to the original building with only a narrow passage between, the merchant had difficulties getting wagons through. This resulted in a gap still visible on the eastern facade of the building, allegedly. This store was demolished early 1960's.
The first owner of Marienhaab went bankrupt in 1861, after which Lars Nielsen had ownership of the property and it stayed within the family for several generations. In 1920, the grandchild of Lars Nielsen, Anine Madsen inherited Marienhaab. However, Anine Madsen had promised not to marry in order to take care of and provide for her blind sister. In 1931, Anine had built a small bakery in the south-eastern junction, from which she sold her famous cookies, Anine Larsen Cookies to the entirety of North Jutland. To Anine's luck, her sister ended up getting married, after which Anine herself got married to Johannes Th. Madsen, who built the backyard studio building in 2 stages, 1941 and 1946.
In 1983, Marienhaab got its new, and current, owner, Birgitte Rode, and established a collective for artists. Subsequently, the extension to the courtyard formed the framework for the establishment of the sound studio Klink Klang. Since then, Marienhaab has been the home of many festive and artistic experiences, concerts, and bachelor parties. A building full of history, art, and Danish design aesthetics.